Make Personal Protective Equipment a Priority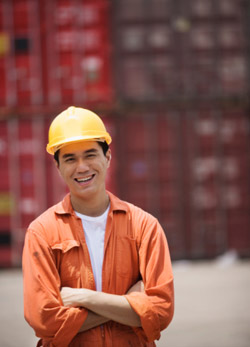 Workplace injuries and deaths in the U.S. cost a total of $198.2 billion in 2012, according to the National Safety Council. But despite the enormous cost of accidents and other workplace safety incidents, too many workers are risking on-the-job injuries because they are not using personal protective equipment (PPE) consistently.
According to a Kimberly-Clark Professional survey, 82% of safety professionals had observed staff in their organization failing to wear the appropriate PPE. Additionally, data from the Bureau of Labor Statistics shows that 84% of on-the-job head and face injuries are sustained by employees not wearing the proper PPE.
OSHA defines PPE as "equipment worn to minimize exposure to serious workplace injuries and illnesses" that can come from contact with chemical, physical, or mechanical hazards. Examples of PPE include gloves, hearing protection, eye and face protection, head protection (hard hats), protective clothing, and respirators.
Reasons for noncompliance
Kimberly-Clark's survey provides a number of reasons why workers are not using PPE at all appropriate times. The single greatest reason, according to safety professionals, is that workers perceive that PPE is unnecessary. Other reasons cited are that the equipment is uncomfortable, it's too hot, or it impedes productivity (e.g., not easily available, ill fitting).
Fortunately, businesses can overcome many of these causes for noncompliance by educating employees, changing workplace behaviors, and possibly upgrading equipment.
Practical steps to increase PPE usage
Improving PPE compliance in your organization can reduce medical expenses, staffing losses resulting from employee injuries, and costs associated with OSHA noncompliance. Here are some steps you can take to help instill the habit of using PPE in your employees:
Educate workers about the dangers of noncompliance. The primary reason workers aren't using PPE is that they don't perceive a task or work environment as dangerous. Having honest discussions with employees about the dangers of noncompliance, as well as the more intangible or long-term dangers (such as exposure to heavy metals), is the first step in promoting proper PPE use.
Have clear policies and enforce them. Supervisors should communicate PPE policies to employees and post policies at worksites to serve as a regular reminder. Managers should address noncompliance incidents quickly to maintain a high standard of safety.
Encourage correct PPE maintenance. Survey data shows that many employees don't understand the importance of properly maintaining PPE. Supervisors should make sure employees understand how to clean, store, and maintain safety equipment and why doing so is important for overall safety.
Lead by example. Managers and supervisors need to reinforce the importance of using PPE correctly and consistently — and that includes always using PPE when their own jobs require it.
Solicit feedback. Give employees an opportunity to discuss the specific challenges they have with using PPE.
Consider equipment upgrades. Innovative safety equipment, such as a helmet that can serve as a traditional hard hat or convert to a helmet with face protection, could make PPE use easier and more convenient for employees. Or, try investing in more comfortable full-body suits or gloves with a roughened surface for a proper grip.
PPE is a critical part of workplace safety, and it's also mandated by law. By paying attention to workers' PPE usage and enforcing your organization's PPE policies, you'll help to keep down injury-related costs and most important, keep your employees and workplace safe.
[cta]

Do you have the right products on hand to keep your workers safe? To find out, contact Angie Meza at angie@absorbentsonline.com or (800) 869-9633.[/cta]