4 Risky Flammables Storage Practices — and How to Avoid Them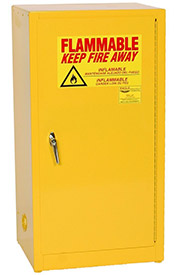 By Travis Zdrazil
In the midst of daily routine, safety may not always be at the forefront of your mind. It can be easy to overlook potentially dangerous materials in your workplace environment, but doing so poses a great threat to workers' well-being. Although OSHA and local fire codes define clear storage requirements for flammables, too many workplaces don't comply with these rules.
Need proof? It only takes a quick Internet search to find examples of safety violations or even accidents resulting from improper storage of flammable liquids or other hazardous materials.
Flammable hazards
If you're unsure whether your workplace's flammables storage practices are safe, review this checklist of potential hazards:
Flammable materials are stored too close to ignition or heat sources or are in areas that are not adequately ventilated.
Workers don't follow handling or storage instructions on the flammables' labels or material safety data sheets (MSDS).
Spills of flammable liquids are not cleaned up promptly (including spills inside a safety storage cabinet).
And finally, one of the greatest hazards is not storing flammable materials in the correct containers or storage cabinets. For example, a flammable liquid material should be stored in a safety can that is OSHA or National Fire Protection Association (NFPA) approved and has a spring-closing lid/spout cover and flame arrestors. Multiple containers of flammables should be stored in flammable storage safety cabinets that meet OSHA requirements and are clearly labeled "Flammable – Keep Fire Away."
Safe flammables practices and products
Fortunately, it is not difficult to properly store flammable materials. Safe flammables storage practices require three essential elements:
a culture of commitment to safety at all levels of a company,
clear, OSHA-compliant safety procedures that all company employees follow, and
the right safety products.
AbsorbentsOnline offers products that can make your workplace safer, including safety storage cabinets (such as Eagle flammable liquid storage cabinets) and safety cans. With the right tools, you can store flammable materials correctly and keep your employees safe.
Want more ideas to help you improve flammables safety in your workplace? OSHA and AbsorbentsOnline.com provide helpful resources, including detailed workplace safety checklists and an OSHA Cabinet Regulation Guide for Flammables.
AbsorbentsOnline is here to help. Feel free to contact us by email or call toll free at (800) 869-9633.