An Ounce of Prevention Reduces Slip-and-Fall Hazards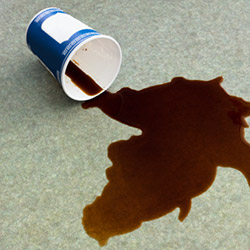 Slips, trips, and falls are the primary cause of workplace injuries and cause 15% of workplace fatalities, according to OSHA. One of the most common causes of such accidents is walking surfaces made slick by spills that aren't promptly or properly cleaned up (water, oil, and hazardous wastes). Liberty Mutual found that same-level falls (not elevated) were the second most common type of injury in the workplace, costing businesses an estimated $6.6 billion. So it's imperative that employers take actions to prevent slip, trip, and fall accidents — to keep employees safe and hold down costs.
Employers' duty to prevent falls
OSHA rules state that employers have a duty to keep work areas "clean and orderly and in a sanitary condition" and to ensure that floors are kept clean and dry. One way OSHA helps companies comply with these rules is by providing guidance, such as a basic checklist for proper cleanup and safety, to help employers recognize and prevent slip, trip, and fall hazards. According to this checklist, an employer must
[sidebar width="275″]Fall Prevention Products
AbsorbentsOnline offers these products that can help prevent slip, trip, and fall accidents at your workplace.
[/sidebar]
Make sure the area is well lit
Clean up spills immediately
Discard waste and debris properly
Clean up accumulated dust regularly
Maintain a clean and orderly environment
Mitigate slip-and-fall hazards
In addition to complying with OSHA and other safety rules for spill cleanup, you need to make sure you have the right equipment to mitigate slip, trip, and fall hazards. It's not worth skimping on your absorbents or other necessary safety equipment to cut short-term costs.
The first step is to identify high-risk areas. This includes areas where forklifts go by frequently (areas where there's a higher incidence of oil spills), or areas with cracked floors, stairs, and elevated surfaces. Start by applying a high standard of safety and then provide easy access to cleanup equipment in these places.
Next, invest in the right equipment. AbsorbentsOnline has high-quality cleanup supplies in every category. You'll want good absorbent mats for oil spills, and forklift mats to park your forklifts on. Safety stair treads are also easy, effective accessories for preventing slip, trip, and fall accidents on the job.
Finally, make sure your employees have the proper footwear and harnesses on at all times to prevent falls. Clean up right and stay safe!
[cta]

Have questions about which absorbents are right for your needs? Contact Travis Zdrazil at travis@absorbentsonline.com or (800) 869-9633.[/cta]