Time to Put Away the Boat? Don't Forget the Marine Absorbents!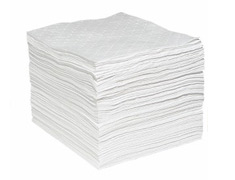 School is back in session, and in many areas, warm weather is quickly coming to an end. For boat owners, this heralds the end of a season — and means it's about time to store your skiff until next spring.
Before you put the boat into storage, you'll need to perform some winterizing tasks, such as these:
draining fuel lines;
draining the fuel tank — or, alternatively, filling it and adding stabilizer;
changing the oil and transmission fluid;
draining and refilling gear case lubricant; and
removing the battery, charging it, and storing it.
Whether you're doing these tasks yourself or using the services of a marine mechanic, things can get messy. It's very easy — and common — for fuel or other fluids to be spilled in the water or on land. Both boat owners and marine mechanics need to make sure they have the appropriate products on hand to quickly respond to a marine spill.
The same products used to clean up large ocean oil spills are available for boat owners and mechanics. There is also a large selection of oil only spill kits available to have on hand, in case of an emergency, that will absorb hydrocarbons (oil and gasoline) but repel water.
Here are just a few marine oil-only products available for your maintenance needs:
Oil Absorbent Pads — These pads and rolls are perfect for high-traffic areas and low-lint applications.
Oil Absorbent Socks — These non-biodegradable socks are flexible, float, and absorb up to 15 times their weight in oil spills.
Oil Absorbent Booms: These booms float on the water and absorb the hydrocarbon spill without sinking, even when saturated.
Bilge Booms: These booms are ideal for removing oil — not water — from your bilge, sump, or tank. They're wringable, dustless, and will float indefinitely.
These oil-absorbent products are very affordable and should be stored on your boat or yacht year round. With these marine oil spill kits, you or your mechanic can take care of an engine leak or a spill before it becomes an environmental problem.
AbsorbentsOnline is here to help. Feel free to contact us by email or call toll free at (800) 869-9633.