Is Your Workplace Prepared to Handle Emergencies?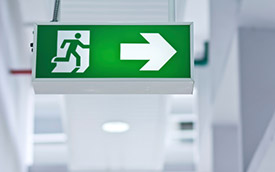 It's easy to think "it couldn't happen to me" — until it does. Too often, we don't focus on emergency preparedness until disaster strikes. And by then, it's already too late.
That's certainly the case for some U.S. employers, many of whom are less prepared than they should be for workplace emergencies. A recently released report from the International Facility Management Association (IFMA) and RLE Technologies states that 19% of organizations lack an up-to-date emergency preparedness and business continuity plan. And Staples' 2014 workplace safety survey shows that only half of employees believe their workplaces are prepared for a severe emergency.
Don't get caught without a plan
Think an emergency can't hit you hard? Think again.
A variety of emergency situations could disrupt business operations, from a short-term Internet outage to more catastrophic events, such as severe weather, a hazardous spill, equipment failure, or a terrorist attack. If you don't have an emergency action plan in place to deal with events like these, you risk non-compliance with OSHA regulation 29 CFR 1910.38(a).
And if non-compliance isn't scary enough, emergencies like these could have dire consequences without proper planning, jeopardizing workplace safety or even shutting down the business. In fact, according to the Institute for Business and Home Safety, one in four businesses never reopens after a natural disaster.
Get prepared
You don't want to be that one in four. So how do you ensure that you're ready to deal with a disaster if — or when — it comes? Both OSHA and Ready.gov offer guidelines and resources to assist businesses in developing emergency preparedness plans.
[sidebar]We'll Help You Prep
Check out these emergency preparedness products from AbsorbentsOnline.com:
According to Ready.gov, a preparedness plan should address these areas:
Program management — A preparedness program requires management leadership, commitment, and financial support.
Planning — This task involves assessment of hazards and risks and how to mitigate them. Your preparedness plan should include hazards specific to your business and workplace environment — for example, oil or chemical spills or severe weather events that are possible in your area.
Implementation — The plan should cover all facets of preparedness (e.g., crisis communications, business continuity, emergency response).
Testing — Test and evaluate the plan.
Improvement — Based on what you learned during testing and evaluation, determine how your plan can be improved.
If you haven't recently reviewed or tested your workplace's emergency preparedness plan, there's no time like the present to determine whether your existing plan needs to be updated. And if your company lacks a preparedness plan, consider the consequences of not being prepared when disaster strikes — and make it a priority to develop a plan that protects both your employees and your business.
[cta]

Do you have the right safety products on hand for your workplace? To find out, contact Angie Meza at angie@absorbentsonline.com or (800) 869-9633.[/cta]