Keep Your Facility Safe and Neat with Cigarette Butt Receptacles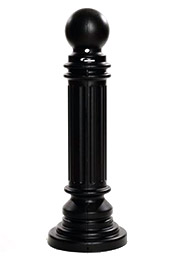 By Travis Zdrazil
Discarded cigarette butts. They're an ugly nuisance that pose a fire hazard for your workplace and are environmentally unfriendly, too. Even if your employees, and possibly your customers, are smoking outside, their improperly discarded butts still present those problems. That's why it is important to provide the proper receptacles for extinguishing and discarding cigar and cigarette butts at your place of business.
Having cigarette receptacles on your workplace premises decreases litter and improves the overall safety of your facility — for example, by reducing the risk of fires in trash cans or chemical fires caused by still-lit cigarettes or sparks. AbsorbentsOnline offers cigarette receptacles that provide a safe, clean way to dispose of butts. The receptacles have long necks that restrict oxygen, to reduce smoke and burn time, and sand at the bottom of the unit that prevents the butts from being blown by the wind. The receptacle's top is covered so that moisture cannot get in — inhibiting unpleasant wet tobacco odors.
Choose from a variety of receptacles
Both metal and polyethylene cigarette receptacles are available. The metal outdoor cigarette receptacles are made of galvanized steel in yellow and beige and are durable enough to provide many years of service. The polyethylene cigarette butt receptacles come in an array of colors and designs to match your building's aesthetics. Anchor tabs on the receptacle's base provide secure mounting and wind protection.
If you're worried about an outdoor cigarette ashtray negatively affecting your building's appearance, AbsorbentsOnline has a solution for that as well. Decorative outdoor ashtrays are available in three colors and three styles to blend seamlessly with your building's design. Choose from a classic fluted model, a hitching post design, or even a golf ball style!
You can accommodating smokers without the hassle. Provide safe and clean disposal of cigarette butts by adding one or more cigarette receptacles to your work area.
AbsorbentsOnline is here to help. Feel free to contact us by email or call toll free at (800) 869-9633.