Oil Spill? Control It Fast with the Right Containment Boom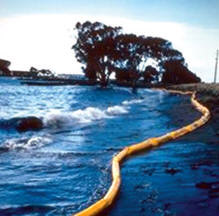 By Travis Zdrazil
Remember the BP oil spill? The Exxon Valdez? These famous oil spill incidents remind us of the devastation such an event can cause for businesses, the environment, and countless industries. Although (fortunately) few oil spills are as large and devastating as those mentioned, you still need to have the proper equipment on hand to combat smaller workplace spills.
Generally, non-absorbent oil containment booms are great tools for containing dangerous spills. But when you select a non-absorbent containment boom, be sure to consider the environment and water conditions where the booms will be deployed.
Finding the right containment boom
AbsorbentsOnline offers specialized non-absorbent booms that work in various water conditions. You can use this helpful guide to determine what type of boom is right for your particular application.
Oil spills can have extreme consequences for the environment and for businesses that don't have a backup plan. With multiple options available, you can find the non-absorbent boom that provides the right level of spill containment for your needs.
AbsorbentsOnline is here to help. Feel free to contact us by email or call toll free at (800) 869-9633.