"Ramp Up" Your Load-Moving Safety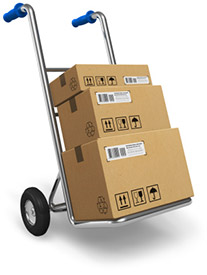 It's no wonder why many industries use handcarts. When used properly, handcarts are a safe way to move loads from one place to another, such as when transferring products from a delivery truck to a customer. But when used incorrectly, hand trucks, dollies, and wheeled carts can be sources of safety missteps when combined with curbs, steps, and uneven surfaces. Pulling a fully loaded hand truck or cart up stairs or over a curb could displace and damage loaded items, or worse, injure the worker.
To avoid handcart safety hazards like these, you need the right tools — tools that can protect both your employees and your products. For situations like these, portable loading ramps offer a convenient safety solution. Such ramps are even recommended by OSHA to improve ergonomics for beverage delivery workers.
[sidebar width="275″]Portable Loading Ramp Products
AbsorbentsOnline.com offers these durable, portable ramp products for your workplace and delivery needs.
Can bear up to 750 pounds, but weighs only 32 pounds.
Has beveled entry and exit edges with a non-slip raised surface.
Has a 4-inch height differential capacity.
High-visibility yellow color prevents tripping.
Can bear up to 1,000 pounds, but weighs only 11 pounds.
Raised, non-slip surface provides excellent traction in all weather.
Raised side rails prevent carts going over the edge of the ramp.
Will work on curbs and steps up to 8 inches high.
Hook-rail attaches to a container's door-keepers.
Resists cracks, dents, and weather.
Weighs only 25 pounds.
Three-point contact and support keeps ramp secure.[/sidebar]
All about ramps
So what constitutes a portable ramp? They're typically made from metal or high-density polyethylene. While both materials have their merits, high-density polyethylene ramps are lighter than metal ramps and have non-slip surfaces that are safer for workers in wet conditions.
Three primary types of portable ramps are available:
Loading dock ramps bridge the gap between a loading dock and a truck's loading area. You can use them with hand trucks, two- and four-wheeled dollies, carts, and pallet trucks.
Curb ramps can be used with hand trucks and wheeled carts. These ramps allow you to move loads over curbs or steps.
Container ramps are used with hand trucks and dollies. These ramps hook to the container's door-keepers to make unloading the container easier.
Keep safety in mind
Remember: Using a safety ramp isn't the only thing you need to do to ensure safety when using handcarts.
Make sure that if you're using a hand truck, cart, or dolly, you always follow good safety and ergonomics practices to reduce the chances of an injury or accident. For example, use safe lifting techniques to load and unload the truck, and place the heaviest objects at the bottom.
Portable ramps are an easy and economical way to make your loading, unloading, and delivery operations much safer, faster, and more comfortable for your employees. If you're looking for affordable portable safety ramps, see the sidebar for a complete list of what AbsorbentsOnline.com has to offer.
[cta]

Have questions about which portable ramps are right for your needs? Contact Travis Zdrazil at travis@absorbentsonline.com or (800) 869-9633.[/cta]