Keep Forklift Accidents at Bay with Safety Barriers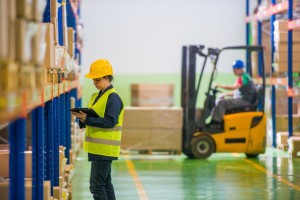 Here's a sobering fact: Every year, 20,000 U.S. employees are seriously injured and 100 are killed in warehouse accidents involving forklifts.
Forklifts are among the leading causes of workplace injuries in warehouses. These accidents usually include overturned forklifts and collisions with pedestrians, pallets, or other equipment. Not to mention that these accidents can cause costly damage to your equipment.
That's why it's important that forklift operators be trained to operate forklifts safely. But beyond ensuring safe operation, what can you do to reduce the chances of forklifts causing accidents and damage in your workplace?
A barrier to collisions
Luckily, there's a simple solution: safety barrier products. These durable, fixed objects prevent entry of forklifts and other vehicles, allowing you to protect dangerous or vulnerable areas and make safe areas for pedestrians. And as a bonus, they're incredibly easy to install.
There are many types of safety barriers that can be used to reduce the risk of accidents when using forklifts or other powered industrial trucks:
[sidebar]
AbsorbentsOnline.com offers these safety barrier products:
[/sidebar]
Safety barriers are a low-tech, economical workplace safety product. They're so easy to implement, there's no excuse for any business that uses powered industrial trucks to be without them.
[cta]

Have questions about which absorbents are right for your needs? Contact Travis Zdrazil at travis@absorbentsonline.com or (800) 869-9633.[/cta]