3 Ways to Make Your Work-Area Floors Safer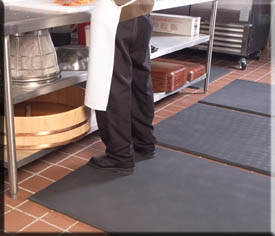 What is a key industrial tool for improving worker safety and increasing productivity? The answer might be right under your feet.
The humble industrial mat is used in a variety of facilities, from factory floors to hospitals. Some mats make surfaces safer by increasing traction and absorbing spilled liquids or melted snow and ice. Others can make floors more comfortable to stand on — an important ergonomic tool for workers who are on their feet for extended periods of time. There are many types of mats for a variety of applications: One mat does not fit all.
Which type of mat could benefit your facility? That depends on what you need the mat to do.
Minimize spill risks
For to reduce risks in high-traffic areas where spillage of water, solvents, coolants, or oil is likely to occur, place absorbent floor mats in spill-prone locations. Absorbent mats such as Rag Rug Industrial Absorbent Floor Mats can provide extra traction and make your spill areas safer. These economical rugs have high tensile strength and are made of recycled materials. The dark color successfully hides unsightly grime.
Enhance ergonomics
Employees who spend their days on their feet — such as workers in kitchens, hospitals, or industrial floors — may experience discomfort or even pain during long periods of standing. Anti-fatigue mats promote employee wellness and increase comfort. The mats are National Floor Safety Institute approved and are proven to have 40% higher non-slip quality compared to any other sponge mat. Employees who use anti-fatigue mats also enjoy decreased spinal compression, increased circulation, and reduced exposure to prolonged heat, cold, or vibration.
Improve floor traction
Slip, trip, and fall risks are high in the workplace; especially in areas where floors tend to get slick or in inclement weather when workers track in moisture from outside. Oil-drip floor mats can increase floor traction to prevent workplace injury, but also serve a variety of other purposes. The Abzorb Oil Mat is commonly used as an oil-drip mat under vehicles or facility machinery. Homeowners often use this mat in their garages to prevent concrete stains or even as a pet mat to go under Fido's food and water bowls.
Industrial mats are an easy, economical solution for improving your facility's overall safety and enhancing your workers' health and well-being. So if you don't already have any of these three mats in your facility, it's time to see how something so simple can make such a big difference.
AbsorbentsOnline is here to help. Feel free to contact us by email or call toll free at (800) 869-9633.