Portable Spill Containment Berms To Handle Your Emergency Needs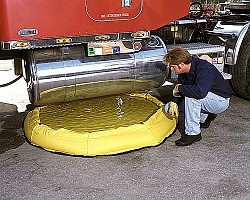 Spills are always accidents — which, by definition, means that you can't control when and where they're going to happen. If spills are bound to happen wherever you go, wouldn't it be nice to have a berm handy wherever you go, too?
Well, we've got some great news for you — you can! There are several spill containment berms available that were designed with portability in mind. Whether you're containing drips from commercial trucks or catching an emergency leak, there are plenty of berms out there that you can easily take wherever you might need them.
Scenario one: You need a small containment berm for an emergency fuel spill, or to contain liquids during short-term projects. For this, you may want to try Portable Spill Containment Berms, which are lightweight, easy to set up, and come in a variety of sizes for any spill, or Emergency Pop Up Pools, which are lightweight, convenient, and resistant to chemicals.
Scenario two: You need a large containment berm for a truck. It must be able to be rapidly assembled by a single person. You're probably looking for the Drive-Through Secondary Spill Containment Berm, which can be set up in minutes, is easily accessed by driving the vehicle into the berm, and whose walls rise automatically as the berm fills. Another great option is the Throw N' Go Secondary Spill Containment Berm, which requires no assembly — simply unfold it, and it's ready for use! This berm's walls also rise automatically as it fills.
Scenario three: You're looking for a more efficient way to contain large spills or leaks for trucks and other machinery. Look no further than the Spill Containment Berm Snap Up, which can be easily cleaned and reused, features sturdy collapsible sides, and is easy to set-up. Or, try the Secondary Spill Containment Berm — this economical model is a top-seller!
We understand: No one wants to deal with a spill when they're on the go. But having portable spill containment berms on hand can save you from a big mess — and even bigger consequences.
Whether you're traveling with a full-on commercial truck or just transporting some of your machinery, it's always better to be prepared!
[cta]

Have questions about which absorbents are right for your needs? Contact Travis Zdrazil at travis@absorbentsonline.com or (800) 869-9633.[/cta]