Relieve Standing Pain with Anti-fatigue Floor Mats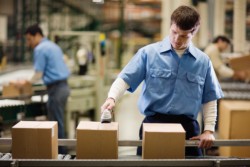 When you and your workers leave to go home each day, is there pep in your step … or a pain in your back? For workers who have to stand all day long, foot, knee, and back pain can be serious problems. To counter the effects of standing for extended periods during work, anti-fatigue floor mats might be the solution you've been looking for.
You've probably heard the much-repeated health mantra, "sitting will kill you." But even though standing for extended periods throughout the day is better for your health than sitting for the same amount of time, standing can put a strain on your health as well if you are not careful. When you're standing up, your heart has to work harder to pump blood through your body — not to mention that you're putting extra weight and pressure on your joints.
Are mats a good investment?
So anti-fatigue mats will make you and your workers more comfortable, and make your work environment healthier. But is there a downside?
Actuallly … no! They have a long life expectancy (3-8 years), so you won't need to worry about frequently replacing them. They're strong and easy to clean, so they won't add undue extra work for you. They're National Floor Safety Institute Approved for non-slip so they won't solve one health risk while introducing another. And they have beveled sides for safety and ease of cart traffic, so they won't get in the way of your work.
Whatever your criteria, our mats can meet it:
Size — We offer our anti-fatigue mats in sixteen different sizes, so you can find the right size for your work area no matter what.
Thickness — Most anti-fatigue mats are only 3/8″ thick — and some are as thin as 5/8″! Our 3/4″ mats offer the best cushion and comfort.
Density — Unlike the heavy mats from our competitors, our mats are lightweight and easy to move.
Wet or Dry — Our mats function equally well in wet and dry environments.
AbsorbentsOnline offers two types of anti-fatigue floor mats to increase worker productivity and keep you feeling great all day long: Anti-fatigue floor mats and anti-fatigue kitchen mats.
If you're looking to boost productivity and comfort and increase the health and safety of your workplace, you don't have to look any further than anti-fatigue floor mats. Durable, long-lived, easy to clean, and affordable — what more do you need?
[cta]

Do you have the right safety products on hand for your workplace? To find out, contact Angie Meza at angie@absorbentsonline.com or (800) 869-9633.[/cta]