Which Spill Response Kit Belongs in Your Facility?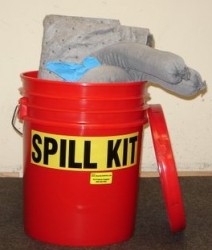 No matter where you are, no matter what you do … spills happen. It's a fact of nature! But in your place of business, it's especially important to have the correct tools on hand to clean up spills before they cause damage or injuries.
But what are "the correct tools"? Spill response kits (not to mention the spills themselves) are not one size fits all. You need to ensure that you are prepared for exactly the type of spills that you will be facing. Only when you have the appropriate spill kits for your facility and the materials you use there will you be able to face any potential disaster with confidence.
What are the risks?
Your facility is unique — and along with that unique identity come unique potential issues. What liquids do you have on site? What areas are particularly prone to spills? Make sure to consider the worst-case quantities that could be spilled in various different locations.
You'll want to review all of these things before you go looking for the right spill kit for you.
The right kit for the job
Just like your facility is unique, so is each spill kit. There are different types designed to most efficiently handle different spills.
Universal or General Purpose Kits — These kits can handle both water-based fluids and hydrocarbons. These kits are usually gray.
Oil Only Kits — Dealing with hydrocarbons? These absorbents repel water and can be used to clean up motor oil, jet fuel, diesel, gasoline, and hydraulic oil, among others. These materials are generally white.
Hazmat Kits — These kits will allow you to clean up aggressive fluids such as acids and solvents. These kits will absorb both hydrocarbons and water-based fluids, and are usually yellow.
Once you know what your facility's risks are, you can find the spill kit that matches them. What materials will you need in your kit? Perhaps pads and rolls, absorbent pillows, or absorbent socks. Each material has its own strengths, so you should read up on the particular uses for each type to determine which is best for you.
Other things to consider are the potential size of your spills — will you need to clean up small leaks, or massive spills? Keep in mind the requirements for your industry and the type of container you will need. Does your container need to be used outdoors, or inside? Different types of containers will be best suited for different spill volumes (for instance, bagged or bucket spill kits will do fine for small spills, but large-volume spills might require a drum or a wheeled cart).
If none of these kits seem like the right match for you, don't worry! Talk to AbsorbentsOnline and we can build a custom kit that meets all your needs and leaves you confident in your ability to handle any spill.
[cta]

Have questions about which absorbents are right for your needs? Contact Travis Zdrazil at travis@absorbentsonline.com or (800) 869-9633.[/cta]