See a Spill? Wipe It Up Fast!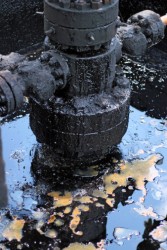 No matter how hard you work to prevent spills, some are just inevitable. The best thing you can do to be prepared for spills is to have the proper cleanup equipment in place and ready to go in case of a problem.
Your cleanup equipment will vary based on your facility and your needs, but there's one simple tool everyone can benefit from: industrial wipes.
These versatile tools should be an integral part of your spill cleanup kit. They're key to keeping your facility clean and safe, day in and day out. Industrial wipes and towels can be used for everything from dust removal to pre-painting surface prep; from absorbing oils and chemicals to cleaning windows. Keep them around for employees to use to clean their hands and maintain or polish equipment.
Shop Towels
Our Shop Towels work just like cloth, but without the lint! Made with 40% recycled material, these super-absorbent towels are strong enough to withstand scrubbing, but safe for workers' skin.
Shop Rags
Tired of spending your money on rental towel services or paper towels? Our reclaimed Shop Rags are quality checked and available in 25- and 50-pound dispenser boxes. These inexpensive, convenient rags are just right to clean up small, day-to-day spills — before they can present a hazard.
Industrial Wet Wipes
Need something stronger? Our Industrial Wet Wipes contain degreasers that cut through oil, tar, grease, and paint. These versatile wipes will help clean up those stubborn spills that need an extra push. We even produce specialty wipes for glass and stainless steel.
One of the most essential best practices to keeping your workplace safe is good housekeeping. Keep it clean and safe with the right cleanup materials on hand.
[cta]

Want to learn more about absorbent materials and housekeeping supplies? AbsorbentsOnline can help. Contact Travis Zdrazil at travis@absorbentsonline.com or at 800-869-9633.[/cta]