Stop the Most Common Cause of Industrial Fires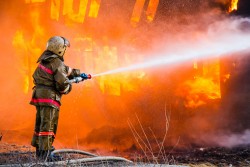 Did you know improper storage and handling of flammable liquids is the main cause of industrial fires? Flammable liquids are common in almost every industry. Knowing how to work with and store them safely is paramount.
If you don't want to play host to an industrial fire, you need to follow some important best practices.
Know your liquids. Read the safety data sheet (SDS) for each flammable liquid before you work with it. You should know how to safely clean up any liquid you use.
Limit and reduce. When possible, replace flammable liquids with non-flammable or less-flammable liquids. You may also want to reduce the quantity you use; you should only be using as much liquid as is necessary. When a liquid is not in use, keep its container closed.
Monitor possible sources of ignition. Control all ignition sources in any area where a flammable liquid is being used. Never heat flammable substances over an open flame — instead, use oil, steam, water or hot air baths, or heating mantles. Also, ensure that any metal surfaces are properly grounded to safely discharge static electricity.
Take safety precautions. Always wear personal protective equipment that is appropriate for the materials you are working with. Use a chemical fume hood when working with flammable liquids and know the locations of emergency equipment such as fire alarms, pull stations, fire extinguishers, and safety showers.
Of course, these best practices are all recommended while you're working with the liquids. What about while they're being stored?
To keep your flammable liquids contained safely between uses, store them in rated flammable storage or explosion-safe cabinets. If possible, these cabinets should not be vented — and they must be properly labeled as flammable, either with the words "Flammable — Keep Fire Away" or with a red flammable diamond sticker.
Avoid storing flammable liquids on floors, near ignition sources (such as electrical outlets or hot surfaces), or in quantities greater than 55 gallons. And of course, flammable liquids should be stored separately from strong oxidizers, corrosives, and other incompatible materials.
The perfect storage options
Whether it's paint, pesticides, or acids, we have an OSHA-compliant safety cabinet that suits your needs.
Flammable Liquid Storage — These yellow cabinets are available in sizes from 4-90 gallons and with manual or self-closing doors. Styles of flammable storage safety cabinets include tower, stackable, under-counter, wall-mount, or regular floor cabinets.
Paint & Ink Safety Cabinets — These red and yellow cabinets store 30-96 gallons and are available with doors that close automatically or manually.
Acid & Corrosive Cabinets — These steel models are corrosion-resistant and powder coated, and come with self-closing or manual doors. Steel versions have a blue finish, and polyethylene models also come in white.
Drum Safety Cabinets — These cabinets come in regular and Hazmat steel models. They are yellow in color and available in 55-, 60-, and 110-gallon capacities.
Pesticide Safety Cabinets — These green cabinets come in steel and polyethylene versions.
Each of these cabinets is double-walled with 1.5 inches of air space between the walls. The cabinets are made of 18-gauge steel and high-density polyethylene. Vents include 2-inch threaded fittings, fire baffle, and cap.
Each cabinet comes with a grounding attachment, a three-point key lock, and a 2-inch, raised, leak-proof spill door. Adjustable shelves, supported by four brackets, can hold up to 350 pounds.
Don't let your flammable liquids turn your facility into a statistic. With education and the proper storage equipment, you can keep your workers and your facilities safe from fire.
[cta]Do you have the right safety products on hand for your workplace? To find out, contact Angie Meza at angie@absorbentsonline.com or at 800-869-9633.[/cta]