Forklift Safety Is Overlooked: Learn Why and What to Do About It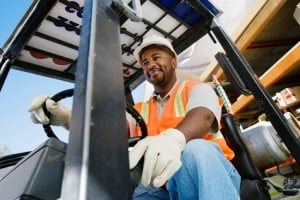 Since their invention in the early 20th century, forklifts have become not just useful, but necessary machines in any industrial setting. These powerful and versatile tools have greatly expanded our abilities to lift and move large objects easily — but that power, when not handled properly, can easily become dangerous.
Last month, an employee at a Florida building products company was pinned between a forklift and some metal shelving, and died after being transported to the hospital. A few months before, a New Jersey construction company employee backed his forklift over a coworker, who was left in critical condition.
There are enough tragic news stories like these. To avoid adding another one to the list, there are two main hazards that are important to avoid:
Hitting head on the overhead cage
Slips, trips, and falls (especially feet slipping off a step)
Although these may seem like simple mistakes to avoid, when you're using a forklift every day, it's easy to grow complacent with repetition. Make sure you're following these best practices to avoid forklift accidents.
Keep your hands clean and dry to prevent slipping when grabbing the handhold.
Check your shoes for grease before entering the vehicle.
Grasp the handhold (not the steering wheel) with a solid grip when entering the vehicle.
Watch your footing carefully when entering or leaving the vehicle.
Lower your body carefully when exiting the vehicle (do not jump down).
Wear appropriate footwear.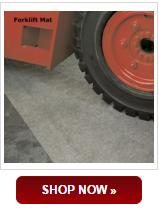 To improve forklift safety in your workplace, try our forklift mat. This mat not only helps to prevent slips and falls by absorbing hydraulic fluids, oil, or battery acid that may leak from forklifts, but it has the added bonus of protecting your floors from these leaks as well.
This super-absorbent polypropylene mat has a non-penetrable, non-skid vinyl backing and won't be damaged by forklifts driving over it — even through many years of use. Prevent slips and falls with this affordable product, which comes in rolls, allowing it to be cut to the desired length.
[cta]

Do you have the right safety products on hand for your workplace? To find out, contact Angie Meza at angie@absorbentsonline.com or (800) 869-9633.[/cta]