Don't Fall For It: Prevent Slip-and-Fall Injuries with Stair Treads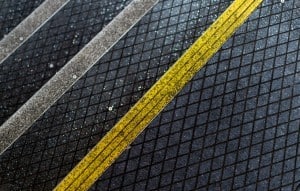 You want your workers to be safe — of course you do. But it isn't just compassion that makes workplace safety important. Non-fatal workplace injuries hurt your business and your bottom line, too. In fact, it's been estimated that employers pay out almost $1 billion per week for workers' compensation costs alone.
And that's not even the whole cost of injury — there are indirect costs, too, such as training replacement employees, accident investigation, implementation of corrective measures, productivity loss, repairs to damaged equipment and property, and even the costs associated with lowered morale and absenteeism. Occupational Safety and Health Administration (OSHA) statistics show that there are over 25,000 slip-and-fall injuries in the workplace every day. And even worse, studies show that the rate of falls among industrial employees is rising.
So how can you avoid "falling" into the same traps as other businesses? The most common locations for falls are doorways, ramps, uneven surfaces, ladders, stairs, and any place prone to wetness or spills. Armed with the knowledge of your most dangerous areas, you can use good housekeeping best practices and safety stair treads to stop falls before they happen.
We have a variety of non-slip products to meet your facility's specific needs.
Non-Slip Tapes and Treads — Perfect for indoor or outdoor use, these tapes have an anti-slip grit surface for traction and can be easily applied with peel-and-stick adhesive backing. They come in a variety of colors, widths, and slogans and can be used on steps, ladders, inclines, ramps, or surfaces that are often wet. We even carry a line of extreme tapes for harsh environments.
Fiberglass Stair Treads — For use at the primary point of contact on stairs or landings for maximum pedestrian safety, the strong, mineral-abrasive epoxy grit coating is cost-effective and can be used on wood, concrete, or metal.
Aluminum Stair Nosings and Treads — For use on worn steps, new construction, or renovations, these treads are strong enough for industrial use but attractive enough to be used residentially. They are available in seven standard colors, made from corrosive-resistant extruded aluminum, and utilize a blend of abrasive grit and epoxy filler for a superstrong non-slip surface.
All of our anti-slip treads are easy to install, allowing you to make your facility safer immediately.
[cta]

Want to learn more about tapes, nosings, and treads? AbsorbentsOnline can help. Contact Travis Zdrazil at travis@absorbentsonline.com or (800) 869-9633.[/cta]